Cleaning is an essential step of the decontamination process. While it is important to mention that this process does not kill the germs, the primary goal of cleaners is to get rid of dirt and grime, and also physically remove bacteria, viruses, yeast, and fungi. Notably, according to EPA (The Environmental Protection Agency), this procedure might remove more than 90% of germs.
What and where?
In the medical area, we can distinguish many applications that need individual attempts to clean. This will depend on the size of the surface, type of material, frequency of possible contamination. The type of contamination will also have an impact on the type of product we use. To this goal, we combine chemistry or biology (the cleaning product) and physics (mechanical action). Depending on application and compatibility we modify each of the science to achieve the best result. Importantly we also cannot forget about end-user. Products used for cleaning should be safe for the staff and healthcare workers.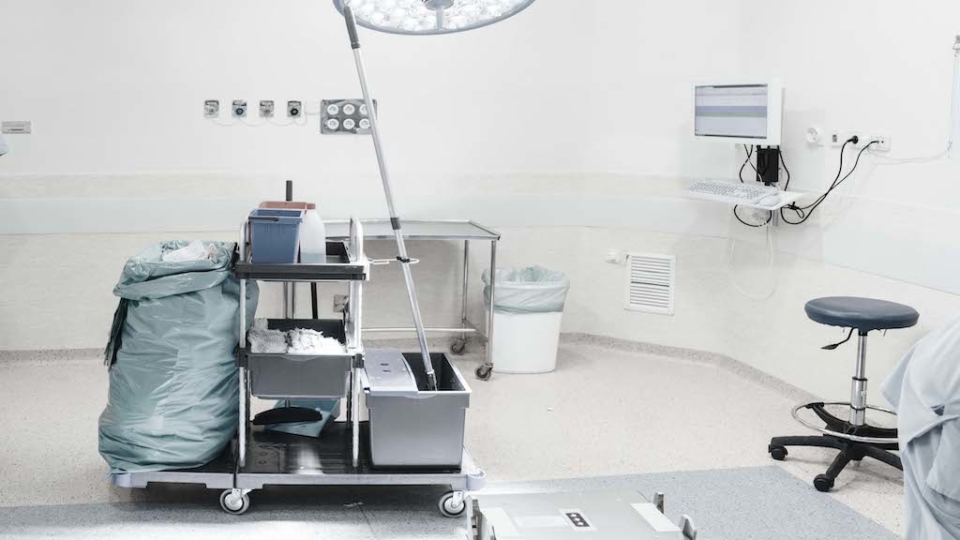 How?
Cleaning might be performed manually for fragile or difficult-to-clean instruments. With manual cleaning, the two essential components are friction and fluidics. Friction (e.g., brushing the soiled area) is an old and dependable method. Fluidics (i.e., fluids under pressure) is used to remove soil and debris from internal channels after brushing and when the design does not allow the passage of a brush through a channel. On the other hand, we can also use automatized cleaning such as ultrasonic cleaners or washer-disinfectors. While using a washer-disinfectant, it is important to load instruments carefully: contact of detergent with instruments should be ensured.
Chemistry and clean biotechnology
The most traditional chemistry used for cleaning is detergents and soaps. However, with the development of technology and the growing need for cleaning-disinfecting products or more sustainable and eco-friendly solutions the market responds to these demands, and products such ammonium quaternary compounds, boosted hydrogen peroxide or enzymes were introduced. At Saniswiss this commitment to reduce the use of "classical chemistry" products in favor of clean biotechnology is translated to our SAFE label.
High touch areas
The risk of contamination increases with the number of people touching the surface and its frequency. Therefore, the so-called high touch area should be prioritized and cleaned at least once a day. If the space is a high traffic area, with a large number of people, is poorly ventilated, or does not provide access to handwashing or hand sanitizer, you may choose to clean more frequently or disinfect in addition to cleaning. While many cleaning products contain disinfectants (2-in-1) it is important to choose the solution with short contact time and a broad spectrum of activity. For this reason at Saniswiss, we propose Saniswiss Sanitizer Surface S1 as foam or ready-to-use disposable wipes. The product use boosted H2O2 to clean and disinfect the surfaces.
Large areas
For the large areas, the importance lay on the ratio between effectiveness and economy. Therefore, the product should prevent biofilm formation, preferably be available in concentrated form and not leaving traces on the surface. We should not forget that the chemistry used for the large surface cleaning should be highly biodegradable. Concerning the scale, the best solution will be suitable for manual use or with auto-washers. Saniswiss offers the Sanicleaner Surfaces, EU Ecolabel awarded product that covers all of these points. We recommend this product for daily use. As for the weekly use we recommend using (2-in-1) cleaner and disinfectant: Saniswiss Sanitizer Surfaces S4.
Instruments
Medical instruments vary in shape and type of material they are made of. This means that we should use different products to treat them. Moreover, the nature of soiling has also an impact on possible biofilm formation. For instruments in surgical theatre or dental office, we suggest an enzymatic retardant in form of foam. This product will delay biofilm formation and already provide initial cleaning. This procedure is designed for the transportation of soiled instruments before treatment. The next step will be the actual cleaning. Here we have 2 options: soaking the product in hyper enzymatic curative or preventive cleaner (Sanicleaner C or P respectively) or using detergent specially designed for automatic washers (Sanicleaner Instruments W). Moreover, we also prepared 2-in-1 cleaning and disinfection options, based either on enzymes (Sanitizer Instruments E) or based on traditional chemistry (Sanitizer Instruments), both designed for manual use.
Dental suction system
The inside of the dental suction system is a challenging environment. Due to its complex format, constant humidity, and contaminated liquid flow, it is the perfect niche for biofilm formation. And it is biofilm culture that is responsible for the hard-to-disrupt dirt and unpleasant smell. Again, to tackle this problem hyper-enzymatic solution might be a perfect choice. Sanicleaner Aspiration combines 6 enzymes with powerful surfactants and decays dirt and biofilm into micro-residues. Moreover, the process can be monitored using a Saniscope, device designed to evaluate biofilm formation within the suction system.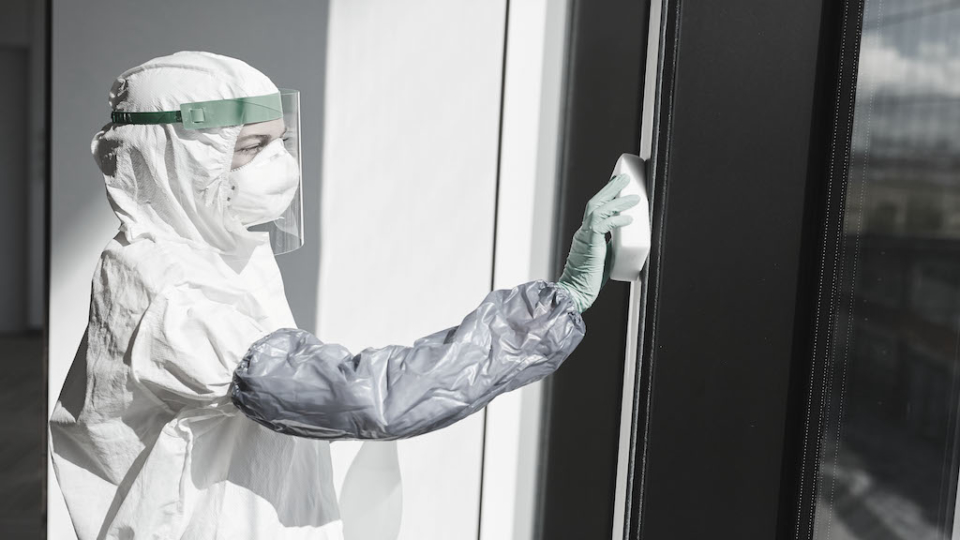 Bibliography
Reichert M. Preparation of supplies for terminal sterilization. In: Reichert M, Young JH, eds. Sterilization technology for the health care facility. Gaithersburg, MD: Aspen Publication, 1997:36-50.

Alfa MJ, Nemes R. Manual versus automated methods for cleaning reusable accessory devices used for minimally invasive surgical procedures. J. Hosp. Infect. 2004;58:50-8.

Scott, D., Kane, H., & Rankin, A. (2017). 'Time to clean': A systematic review and observational study on the time required to clean items of reusable communal patient care equipment. Journal of infection prevention, 18(6), 289–294. https://doi.org/10.1177/1757177417714046

Doll M, Stevens M, Bearman G. Environmental cleaning and disinfection of patient areas. Int J Infect Dis. 2018 Feb;67:52-57.

https://doi:10.1016/j.ijid.2017.10.014

.

Han, J. H., Sullivan, N., Leas, B. F., Pegues, D. A., Kaczmarek, J. L., & Umscheid, C. A. (2015). Cleaning Hospital Room Surfaces to Prevent Health Care-Associated Infections: A Technical Brief. Annals of internal medicine, 163(8), 598–607. https://doi.org/10.7326/M15-1192